You'll never have to worry about your dog's water needs ever again. This bottle is perfect for every dog owner. If you're always bringing your dogs out for walks, hikes, runs, or even for a short trip to the park, the Portable Pet Water Bottle is just the bottle your best friend needs. It is both a water bowl and a water carrier combined in an easy to dispense container. This bottle is sure to keep your doge hydrated!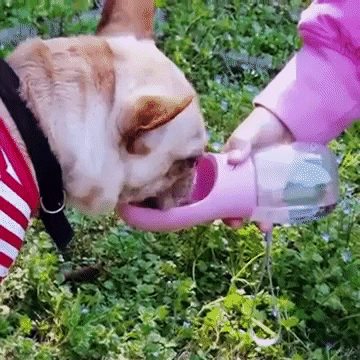 Easy, Portable and Convenient
The Portable Pet Water Bottle was designed for convenience in mind, with its one-hand, one-button operation. Simply press and hold the button to release water. It's lightweight, portable, and easy to carry in your bag, backpack, or hang on a sling/wrist.
Leak-Proof Design

This pet water bottle is designed with a silica gel seal ring which can prevent water leakage efficiently. The one-key lock further ensures that the water doesn't leak and you can put it in your backpack without worrying about leaking. As long as your lid is fastened, you will not need to worry about wetting your bag. 
Completely Safe
This portable pet water bottle is made of high-quality food-grade material, BPA-free, FDA approved so your dog is completely safe when they use our pet water bottle. Enjoy the safe and fun outdoors with your pet.
Durable and Eco-Friendly
Durable and recyclable, easy to dismantle and clean. It will keep your dog healthy and bursting full of energy! Treat your dog to a healthy drink anytime and anywhere.
No Water Waste
Oh yes! One more bonus point! You can press the button again to drain and keep the remaining water to use again later. This is both environmentally friendly and much more efficient - you're maximising every drop of water so you won't have to keep refilling the bottle. 
Big Trough
This portable pet water bottle bowl has 2.76 inches of Trough. This will provide dogs of any breed a pleasant drinking experience and is also good for all our other furry friends - cats, rabbits, or other small pets. 
Perfect for any size pet
We offer 3 sizes from 350ml (12oz), 480ml (16oz) and up to 550ml (18.5oz). The 350ml and 550ml are offered in 3 colors: Pink, Blue, and White and features a trough size of 75mm, which is ideal for small to medium size dogs.

The 480ml version comes in two colors: White and Black and features a trough size of 90mm, ideal for medium to large dogs. All these water dispensers include a slot to attach a sling for easy carrying and transport.
How to Use:
1. Turn the lock key to the right to unlock. Press the water key to fill the trough with water. Release the water key to stop the water.
2. Keep it vertical and press the water key to return the remaining water to the bottle. 
3. Turn the lock key to lock lid to prevent leakage. 
Why do I need to bring a water bottle for my dog when we go outdoors?
When active, dogs need to drink more water.

Unclean water leads to stomach problems and frequent, expensive visits to the vet.

Drinking too little water can cause health problems, such as kidney stones

So, feed your pet with clean water when going out to help him grow up healthy and happy. When you have this bottle, you will never ever have to worry about his health.
A friendly reminder:
Keep the pet water bottle out of hot water over 176℉/80℃.

Do not wash with the dishwasher.

Don't push the water key hard when the lock key is locked, or it may break.

Do not put these in the cup: dry ice, chocolate, soda water, milk etc.
Specifications:
Available Colors: White, Blue, Pink and Black

Goods Weight: 4.66 ounces

Capacity: 350ml, 480ml, 550ml

Cup Material: PC complied with FDA

Trough Material: ABS complied with FDA
Package Includes:
1 x Portable Pet Water Bottle

1 x Sling rope