Missing the classic games of your childhood? Super Mario Bros, Legend of Zelda, Street Fighter, Pacman. Revisit these games and bask in nostalgia with this Handheld Retro Video Games Device. With this device, you can enjoy 500 built-in classics. It has everything you need to have countless hours of fun and relive your childhood memories. For added fun, play it with a friend.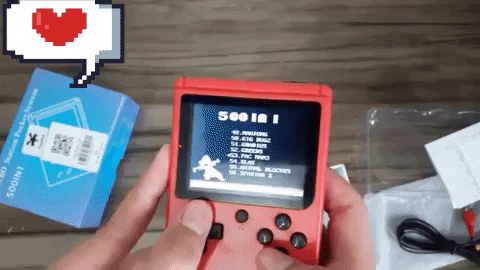 500 Classic Games
This console will take you back to the fun of childhood. With over 500 classic games to choose from, you'll never run out of games with the Handheld Retro Pocket Games! Built-in retro arcade/FC/NES games, Logic & math, Sports, Puzzle, Shooting, Action, Racing, Fighting, Strategy, Adventure, and board games. Enjoy classics such as Super Mario Bros, Donkey Kong, Ice Climber, Zelda, and many more.
Clear & Vibrant Display
3-inch, thin-film-transistor screen. This 8-bit classic color display allows you to play games with a better view. While pocket-sized ensures portability, the device still retains a 3 inch screen so gaming experience is not compromised. It is neither too bulky or is it too small. This device is the perfect size for both children and adult gamers.
TV Video Output 
AV external interface and supports video output. AV port can be directly connected to a TV or computer display, if you wish to have the ultimate gaming experience on a large screen!
2-Player Gaming
A 1 piece gamepad is included (choose "With Controller" Type Option) in the package for two-player games. AV cable is also included so you can connect your TV with this arcade and play along with a friend.
Rugged Shatterproof
The casing is made of strong and environmentally friendly plastic. The surface is frosted so it is anti-fingerprint and anti-scratch. It was made with small children in mind so it's extremely durable.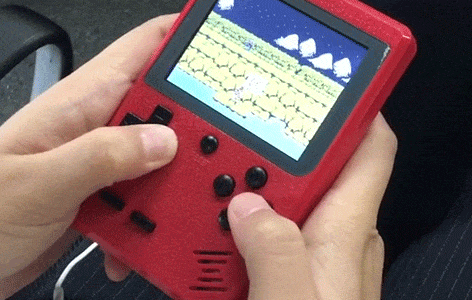 Convenient and Portable
The Handheld Retro Pocket Games features a lightweight, ultra-slim compact design that easily fits on the palm of your hand and fits right into your pocket with ease. Take it with you wherever you go and enjoy the best games anywhere, anytime.
Big Capacity Battery
A built-in rechargeable 800 mAh lithium battery provides a steady stream of energy so the gaming never ends. Charge it with a mini USB cable to enjoy 6 - 7 hours of continued use. Gone are the days of fumbling around for AAA batteries. 
Perfect For All Ages
Whether you are a kid or adult, the Handheld Retro Pocket Games provides fun for everyone! It's the perfect gift idea for younger kids, as well as adults who are looking to relive their childhood memories.
Specifications:
Screen: 3.0 inch TFT color screen

Console Size: 14.5*10.5*5cm

Memory: 128M
Other function: Support TV connection
Battery: 800mAh battery (rechargeable Lithium battery)
Accessory: Console
Package Includes:
(Console Only)
1 x game console 

1 x User manual 

1 x AV Cable

1 x USB Cable
(With Controller)
1 x Game Console 

1 x User manual 

1 x AV Cable

1 x Controller

1 x USB Cable