Give your feet a break with this Foldable Foot Bath Tub. Relax, soothe, and revitalize your tired and achy feet. Rub your feet on the rollers for a soothing and gentle massage. It is an ideal spatub that soothes sore feet and alleviates muscle pain. Best of all? It doesn't even take up much space. Just fold and tuck away after use.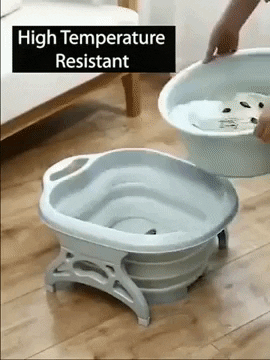 Relax and Pamper
Treating your feet (and yourself) with this foot bath tub is the easiest way to enjoy some relaxation and pampering at the end of a busy day. Just add some bubbles, tea tree oil, or epsom salt, and feel those aches and pains disappear. It also doubles as a perfect foot basin for at-home callus removal, treatment of dry hard skin, athletes' foot, wart removal, and preparation for pedicures.
Alleviate Foot Aches and Pains
Our basin is professionally designed with raised dots and rounded arch supports strategically placed on the bottom for maximum massage therapy potential. The raised dots are evenly distributed to stimulate the acupuncture points on the feet and promote blood circulation on the soles of the feet. Treat sore feet, bunions, plantar fasciitis, tendonitis, twisted ankles, arthritic toes & joints and other foot and ankle ailments all while sitting comfortably on a soft sofa of choice. *For best results, use hot water.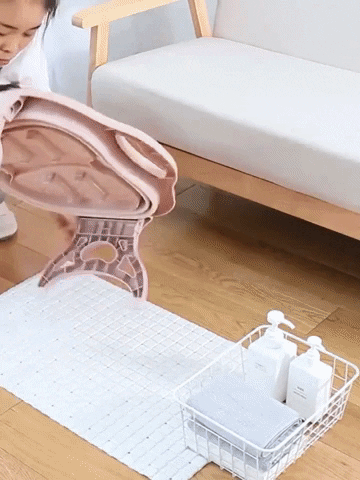 Longer Water Temperature Retention
The concave bottom is 2cm high, which reduces the heat transfer to the ground and retains the heat of the water for much longer. This ensures that you can enjoy your hot-water feet spa for extended periods of time.
Strong and Sturdy Design
Our industrial-strength foot basin was intentionally designed to have extra high walls and heavy-duty plastic so that it stays put at your feet without rocking and wobbling and is also deep enough such that it can reach your calves.
Non-slip Handle
It has non-slip handles that are easy to hold. You can easily dump water into a bathtub, sink, or toilet after foot treatment is complete.
Foldable and Portable
It adopts foldable design, without any deformation even after repeated folding. After folding, it is only 6.5 cm in height so you can easily tuck it anywhere in your home -  super space-saving. Its compact nature also means that you can also easily take it with you when you travel or go on a business trip. 

Easy to Store
Once you are done, the container folds into a compact size to stow away for future use. It makes full use of the narrow slot space and can be placed under the sofa, under the table or hidden beside the washing machine.
Large Capacity
The internal measurements of this basin are wide and spacious. When folded, its only 2.5 inches tall. But unfurl that, and you get a beast of a tub! When unfolded: 19.7 x 16.1 x 7.9 in. Store as much hot water as you desire! We both know how much your feet deserve a sweet reward.
Specifications:
Material: plastic and silica gel
Size: about 50 x 41 x 21 cm / 19.69 x 16.14 x 8.27 in (This tub will comfortably fit a pair man's size 15 wide feet)
Color: Pink, Green
Package Includes:

1 x Foldable Foot Bath Tub