UPDATE: LOW STOCK REMAINING!
Orders for this product have been streaming in like crazy! Our supplies are currently running very low. So get yours while you still can!
Looking for a kitchen bowl that can be used for anything and everything? Foldable Silicone Bowl for Baking is just the very bowl that you need! It is ALL PURPOSE. It can be used for steaming, roasting, and baking in the oven and microwave. You'll find yourself using it to make omelets for breakfast, reheat leftovers for lunch, and to steam vegetables, fish, and chicken for dinner. 
This innovative Foldable Silicone Bowl for Baking is microwave safe and is perfect for reheating your dishes while helping to maintain the food's moisture during heating. This bowl is extremely flexible and can be held in one hand for easy eating on the go. The entire bowl can be wrapped up around the food inside so nothing will ever spill out.

COOK ALL IN ONE BOWL
EASY BAKING
Silicone Bowl for baking means you can whip up a fresh, delicious, crusty loaf with no mess and no fuss, all in the one bowl! Just mix up your dough, knead it right in the bowl, let it rise, then fold up the silicone bowl, clip it together and throw it in the oven! Perfectly-shaped, delicious artisan bread, every time!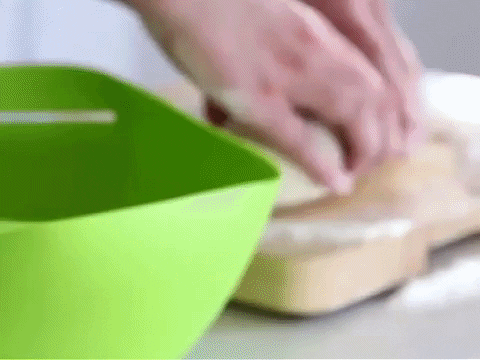 EASY VEGETABLE STEAMER
Most vegetables cook in under 3 minutes in the microwave with only a tablespoon of added water. Add butter, herbs, and spices before you cook for a tasty steamed dish you can serve right from the bowl. No need to struggle with a tipsy basket, pots, and a large quantity of boiling water in a kettle. Think beyond vegetables - you can cook any food that needs to be steamed in this bowl, such as a tamale.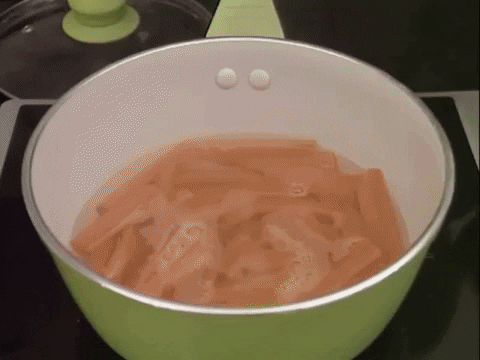 EASY ROASTER
Instead of expensive foil or parchment paper, use this washable bowl to roast chicken, or meat and vegetables in the oven. Pouch cooking produces a moist and flavorful result. Open the bowl towards the end to brown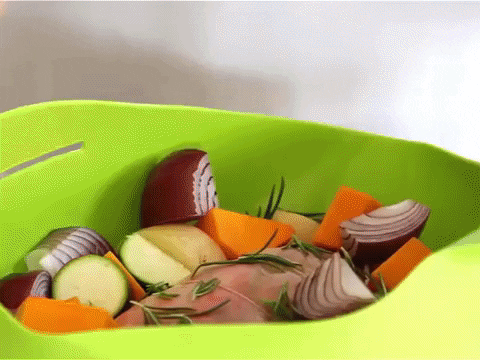 EASY OMELET MAKER
Making omelets in the bowl is simple! Steam chopped vegetables in the bowl, add your eggs and cheese, stir, then microwave for 1-2 minutes for a single serving of a fast breakfast on the go.
EASY POACHER
Use the bowl instead of a pot to poach fish or chicken. Place fish in the silicon bowl with a few tablespoons of broth, juice, or wine, and bake or microwave until done. Remove the fish, and thicken the juices right in the microwaveable pod for a flavorful sauce.
FOLDABLE DESIGN
Semi-sealed pod design allows air to circulate for the BEST cooking results. It is collapsible. You can roll it up easily for convenient storage!
NON-STICK
Non-stick silicone cools down quickly so you won't burn your hands.
SAFE MATERIAL
Safer than plastic and aluminum. Kid-Friendly. BPA free EU grade silicone goes above FDA safety standards. 100% safe to eat and cook from. Can withstand heat up to 425 degrees fahrenheit.
DISHWASHER, MICROWAVE & OVEN SAFE
Dishwasher, microwave, and toaster oven safe. Just toss it on the dishwasher and it will clean easily. Microwave and oven friendly.
HOW TO USE:
Put the fresh ingredients into the food bowl.

Please make sure the cooking bowl is tight.

Put it in the microwave, oven for cooking

Hold the handle when removing and set on the tablet 

Push the top piece on its side and WALAH! A delicious meal appears before your very eyes!
SPACE FRIENDLY
Save space with this bowl. Perfect for small apartments. Dorm rooms. RVs and campers. Stores easy and can replace your other kitchen gadgets.
SPECIFICATIONS:
Feature: Stocked, Eco-Friendly
Material: Silicone
Temperature: -40F to +446F (-40c to +230c)
Size: 8" inch
Color: Green
PACKAGE INCLUDES:
1 x All-Purpose KitchenSaver Foldable Silicone Bowl